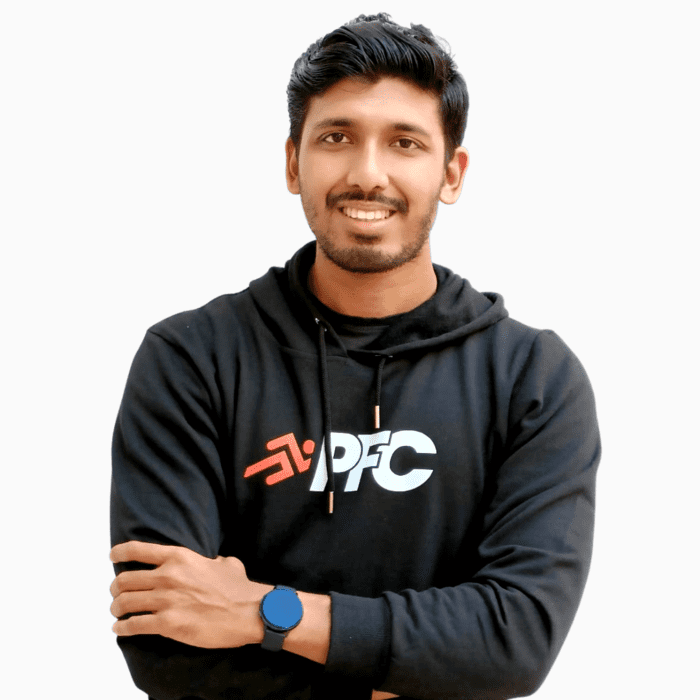 Somesh Pal
Nutrition & Fitness Coach
American Council of Exercise
Fabulous Body Academy
100 Transformations
Are you struggling to find time for fitness in your busy schedule? As an experienced fitness coach, I believe that education is the first step to achieving your fitness goals.
Read More
Are you struggling to find time for fitness in your busy schedule? As an experienced fitness coach, I believe that education is the first step to achieving your fitness goals.
That's why I started my fitness journey and began helping others get fit. I'm committed to empowering my clients to become self-reliant and learn the skills they need to succeed.
I specialize in fat loss, muscle gain, and body transformation for people with high-stress occupations and homemakers. I understand the unique challenges that come with these lifestyles and provide customized training programs and simplified nutrition plans to help my clients achieve their goals.
If you're feeling unmotivated, unsure of what to do next, or intimidated by the idea of a "diet," don't worry. I'm here to support you every step of the way and make fitness a sustainable part of your lifestyle.
Together, we can transform your health and fitness. Don't wait any longer to take the first step. Contact me today to learn more about my services and how I can help you achieve your goals.
Couple Training
Home Workout
Fat Loss
General Well Being
Muscle Gain
Medical Conditions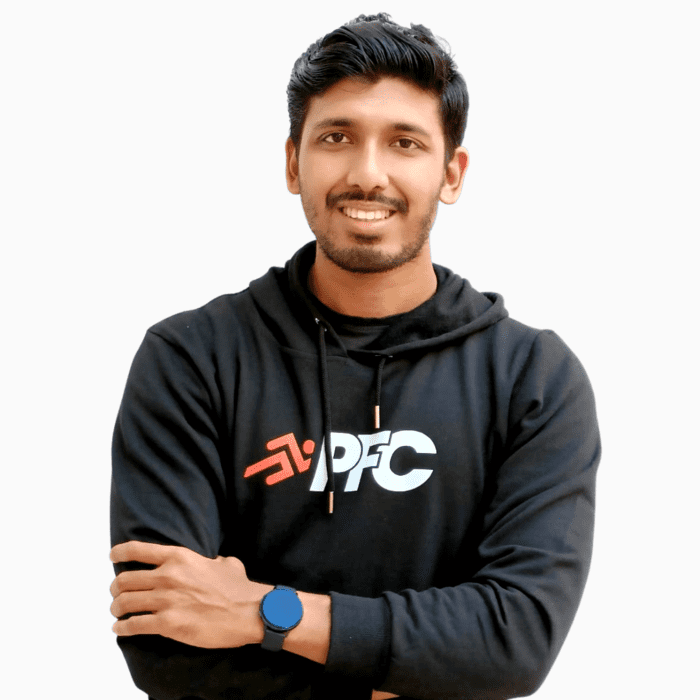 Somesh Pal
Sale price
Rs. 6,499.00 INR
Regular price
Rs. 7,499.00 INR
(/)
This coach is rated 5.0 of 5.0 stars.
It has received 33 reviews.
Prince review
Really thankful to Somesh and the PFC team for helping me reach towards my goal in these 16 weeks.
Somesh was really kind and helpful and a thorough professional, hopefully in months to come I will enroll again with him
Dhruvan Feedback
I started with coach Somesh in the middle of June this year and have just completed my 16 week long journey with him today. I think looking back, I will term it as one of the decisions that changed my life. I started with him at 76kg and today, my weight was 64.7 kg. More than the loss in weight and inches, it's the change in mindset and lifestyle that I value the most from these 16 weeks.
Somesh Bhai was absolutely fantastic from day 1 and it was indeed my good fortune that he was available in the essential package. The best thing about him is that he keeps things simple instead of doing fancy stuff because in the long term, it is more sustainable and easy. We worked as a team and made the best of the circumstances and I swear, the feeling of being accountable to a coach helps a person so much as you feel more responsible. There was a period in August where I was out of action for a week due to eye flu and then missed the next two weeks of training due to an injury and work related travelling but my diet and steps were always on point and I worked out whenever I could. Earlier, on the days when I didn't go to the gym, I had the tendency to eat unhealthy food but the past 16 weeks taught me a lot about consistency, doing the simple things and being responsible with every meal that I consume. It made me realise that there is more to fitness than gym and nothing can beat a good diet especially a satiating high protien diet. I can miss the gym but can still win the day with my steps, diet and sleep.
Even, in the middle of September, I had to be away for 10 days due to work but despite immense work pressure, I didn't indulge in any kind of emotional and stress eating. The change in my relationship with food is a massive win for me. I barely had any cheat meals in the last 10-12 weeks as it was about going all in and staying disciplined and somehow, it made me more determined and mentally stronger as well. It's not like I suppressed any kind of craving over these weeks, it's just that I was happy eating the simple food in my plan and didn't feel like hogging on any sugar or junk despite innumerable opportunities. This year, I didn't even taste my favorite sweet ghevar and it's totally worth it when I look at the results. Even I didn't know that I had that much self control and perseverance. It was amazing to go beyond my own self limiting beliefs.
It felt like the two of us were on a mission and every second week, when my measurement & weigh in was due, I used to look upto it with so much excitement. The bi-weekly improvement in the progress sheet was a massive motivation in this journey. It was also inspiring to see my own coach managing his meals and training despite having a busy professional and family life. Somesh Bhai was always available, understanding and was thoroughly professional. I would always be grateful to him for everything especially for all the times when he went out of his way to guide.
Back in school and college days, when I used to play football, I was fit and fine. Once I had a couple of injuries and lost my way post that, it became tougher with every year to regain my fitness specially with a travelling job. I didn't realise it back then but stress & emotional eating was a massive hurdle. All this affected my confidence, self-esteem, personal life to a great extent and people casually pointing out and body shaming also didn't help at all. I tried and failed to undergo a proper transformation multiple times over the past few years and this is fittest I have been in a long long time. I have a pretty active life these days with regular gym, evening badminton, runs being a central part of it and I wish, it continues the same way. I feel so happy and alive with this routine. With less than 2 weeks to go for my Everest base camp trek, I feel more ready and raring to go than ever and a major credit for that goes to Somesh Bhai and PFC.
Thank You once again. Wishing you guys a great October. Cheers!
Best wishes,
Dhruvan.
Feedback from Pradeep
Dear Team,
I have taken the 16Week Diet and Workout Plan with Somesh. This is my first program with a Professional team for Diet and Workout.
I would like to thank you guys for coming up with this idea and I am more than happy with the program and my coach, my plan was to reduce weight by around 4-5kgs and I lost 9kgs which has really helped me look great after a long time.
I would like to Thank Somesh for meticulously planning my Diet and Workout and constantly helping me with any questions that I had. He is always there to answer any time of the hour and prompt with the responses. The daily check-in also helped with tracking. I am more cautious when I eat out and able to choose my food appropriately as I know what is good and what is not good for the body.
Somesh particularly helped me with the planning and tracking part as it was initially overwhelming by looking at what all is required to be done as part of the program. I did not do any Gym workouts earlier and my focus was only on running and stretching training. Now, I am not able to miss Gym when I am not travelling and this is all because of Somesh and the Team.
All the progress so far is when I was only able to follow the diet plan and workout plan partially as I was travelling half of the time.
I really would like to come back to you guys when I reduce my travelling so that I can focus more on the muscle building which I did not concentrate fully during this plan as I am more inclined to Running.
Thanks and Regards
Pradeep Varma
Feedback from Aman
I would like to thank PFC for introducing me to the awesome coach, Somesh. I was venturing into the unknown, as this was my first experience with a planned diet and workout. But the way in which the coach accommodated the usual food items into a healthy diet was really helpful. It didn't feel at all as if I was altering my eating habits. The routine alterations to the diet based on my progress are a testament to the attention to detail practiced by the coach. Apart from the diet, workout planning is something that has given me far greater results than what I used to do earlier. The carefully curated plan to target different muscles, along with an appropriate amount of cardio, has allowed me to shed weight a lot quicker. This journey of becoming the best version of myself is a long one, and I would love to continue it with PFC and Somesh.
Thanks for all the support and the daily check-ins,
Aman
Let customers speak for us